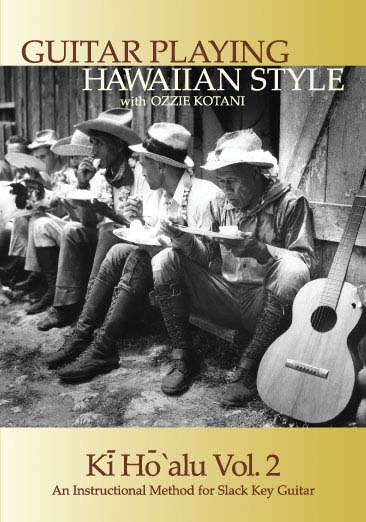 Slack key artist Ozzie Kotani presents the long awaited intermediate instructional material on ki ho'alu (slack key), the uniquely Hawaiian style of guitar playing. In his renowned teaching style, Ozzie challenges the student, covering vital hints and suggestions and offering a wealth of knowledge and material. Building upon the first DVD, Guitar Playing Hawaiian Style Vol. 1, Ozzie reveals the art of playing smooth Hawaiian slack key.
This Special Edition DVD includes over 2.5 hours of lessons, combining two volumes of intermediate instruction into one. Build your repertoire, learning with printable tablature, Holomua, Ka Uluwehi O Ke Kai, Waikahe, Makee 'Ailana, Music for Dreaming, Hi`ilawe, and Slack Key Medley. Bonus Tracks: Presentation of Sanoe and Kimo Hula.
Approx. 150 minutes. NTSC. English: Stereo. Not Rated
Studio recordings of Waikahe, Holomua and Music for Dreaming can be found on Ozzie's CD, Ho'ihi (Respect), available at www.ozziekotani.com.
Summary: Multi-angle shots and close-ups makes this slack key instructional DVD foundational and enjoyable for anyone interested in one of the obscurest fingerstyles still to be explored - from novice to the advanced guitar player. Using split screen and printable pdf tablature, the student will be able to follow both hands of respected artist and instructor Ozzie Kotani as he carefully guides the viewer through the selected songs.
Drawing on a teaching method crafted while he taught at the University of Hawaii, Ozzie includes variations, options, and suggestions over the range of subject matters covered on this, his second, DVD.

Endorsements:
"Ozzie is among the most naturally gifted teachers I've ever known. His instruction is unfailingly clear, engaging, well-presented, and inspiring - this is pedagogy of the highest rank! Ozzie's teaching materials are required reading for our ki ho'alu seminar at Stanford - and our students are lucky, indeed, to have access to his outstanding mentorship in this beautiful art form."
-Steve Sano, Chair, Department of Music, Stanford University

"Ozzie Kotani is one of the great Hawaiian slack key guitarists. He is one of the leading educators in slack key having taught slack key courses at the University of Hawai'i and sharing through private lessons and workshops. Ozzie continually explores new ways of teaching and bringing slack key guitar to the public. This DVD is one of the manifestations of this endeavor."
- George Winston

Ozzie Kotani is a featured artist on the 2006 and 2007 Grammy Award-winning albums Masters of Hawaiian Slack Key Guitar Vol. 1 and Legends of Hawaiian Slack Key Guitar-Live from Maui. He was also honored with the 2004 Na Hoku Hanohano Ki Ho'alu Award.
Review this video by clicking on 'reply to topic'.